Affordable housing is a community problem and requires a community solution. Neither government nor the private sector have been able to solve the affordability crisis. We, the community, need to come together and begin 'Building Solutions to the Housing Crisis'.
Vancouver is now the third least-affordable city in the world after Hong Kong and Sydney, according to a new survey that compared housing unaffordability by examining median home prices and household incomes in key markets.

Joanne Lee-Young, Vancover Sun
If development costs can be reduced by 20% then housing can be brought to market at $0.75/dollar. In cases where land is brought into a development at zero cost housing can be delivered at $0.50/dollar.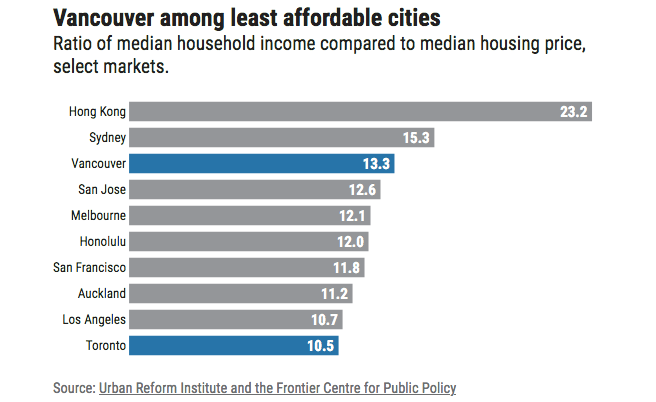 Metro Vancouver's population is growing at a rate of 3,000 new residents per month. By 2041, the Metro Vancouver region will need a half-million new homes to house a million new residents.. A 2019 study from the Canadian Centre for Policy Alternatives indicated that 10,000 units of non-market affordable rental housing are needed in the Metro Vancouver region annually in order to successfully tackle the affordability crisis and prepare for future needs. The construction cost alone to meet that demand is $25B over the next decade. To put that in perspective the entire Canadian budget under the National Housing Strategy is $70B.
The vision is to empower and fund a new sectoral player – non-profit housing developers. Developments will include below and near market rentals as well as affordable homeownership and in some cases full market rentals and sales. A key component to the affordable homeownership model is the covenanted deed where if one purchases a home at a discounted rate it has to be sold at the same discount rate or pay a penalty greater than the benefit.
Working together the community can transform Vancouver from one of the least affordable cities to one of the most affordable!